My first time linking up!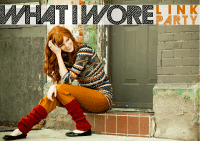 I couldn't miss an opportunity to share what I wore on my wedding day! I bought my dress at the same little shop in Auburn that my mom bought her dress years back. I thought that made it all the more special.
I knew I would wear some cute little colored ballet flats in my wedding. My bridesmaids wore green dresses so I just got all matched up with them!
My earrings were my "something old." My sister in law, Meaghan, had given me these when I was a bridesmaid in her wedding. They were exactly what I imagined for my big day. Dainty, little pearls with a little bling.
I could not bring myself to spend "the big bucks" on a veil. Right after getting engaged I won a $100 gift card to an online wedding retailer from The Perfect Palette. I found this one with scattered little pearls sewn on it. Perfect.
I also wore a pearl bracelet borrowed from my other sister in law, Katherine. And it is a fact that my attire would not have been complete without my orange and blue Auburn garter!
May 7th was a wonderful day :)
{photo credit- pictures 1-4: Regan Bradford}